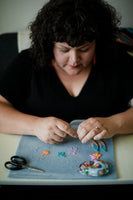 all items are handmade slowly and carefully, with good energy and heart.
most pieces are completely one of a kind, made with high quality materials sourced mainly from Indigenous owned businesses.
beading is medicine for me, and helps to heal me and slow me down. i hope the good energy and love i put into each piece carries on to the wearer.
this is special artwork that just happens to be able to be worn by you!
i hope you enjoy looking at my work, feel free to check out my about me to learn more, or my FAQ section if you have questions :-)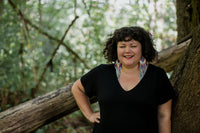 are you interested in working with me?
i love to do:
artist talks, talks for Indigenous youth, special event talks, q+a's, lunch and learns *pls note i do not teach beading workshops yet!* and create special gifts for your staff or honoured guests.
i would also love to work with fashion designers, have my work worn in movie/television, work with magazine editorials, etc!
please get in touch if you're interested: lisa.crafting@gmail.com
testimonials
I feel so honoured to wear your work - it is so incredible. It's magical how you take words and concepts and transform them into pieces that have resonance across so many levels - and then to be able to wear the piece on your body is just so special.

ariel
I was drawn to Lisa's artistry as soon as I saw a pair of earrings made by Lisa. It is such an honour to be able to wear Lisa's beautiful earrings for the world to see.

They are so well made, and I get so many compliments on them, & love to tell people about what an amazing artist, and kind, generous person made them. I have learned so much from Lisa.

I look forward to hopefully being lucky enough to purchase more of Lisa's gorgeous work in the future.

Michelle B.
i appreciate the love and devotion lisa weaves into every single one of her works. i have been going through a lot this past year, and stumbling upon lisa's work and this particular pair almost made me cry upon seeing them. i wear them almost every day.

i highly recommend lisa's work. you can feel the medicine and the love in every single pair.

hijxdelcondor
Buying beadwork from Lisa is a type of magic you can't prepare for. It's like when you have a baby or get a puppy; people stop you on the street to tell you how amazing her work is.

Conversations that you never would have had otherwise, are sparked by the magical earrings. Wearing Lisa.Beading is an instant mood-booster. There is actual magic in her work; English words aren't sufficient to describe it.

Jenn B.
I am so grateful to own several pieces of Lisa's beadwork. The quality of her work and the intention she puts into her designs and packaging is incredible. Whenever I wear her earrings I feel the good energy she puts into each bead.

Megan C M
Lisa's work is so thoughtfully made, and made to last. The colors are so bright and vibrant, the arrangement of matte and shiny and metallic beads make them look even more beautiful in person.

Wearing my earrings makes me feel confident, uplifted, and like I'm standing a little taller than I was that morning.

sarah t
Lisa's earrings are beautiful, comfortable, well made and infused with good energy. I have three pairs and wearing them always earns me compliments from strangers and make me feel like a boss.

Sabrina Y
I absolutely love the pair of earrings I have from Lisa. They are about processing deep emotion, and the mix and gradient of colors and textures in the fringes remind me not to bury my sorrow, but to grow from it and find joy. I'm so glad these beads came to me and look forward to wearing them for years to come!

Anne S
Lisa's earrings are filled with so much love and medicine! I feel so thankful to be able to wear them. They give me so much confidence! emote Lisa for your beautiful art! <3

Emily W