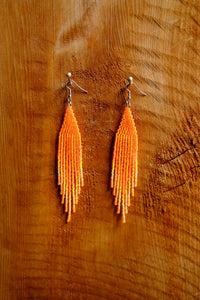 xʷéldekʷ and qápela: fire and smoke pairs
this series is about the powerful, cleansing, life sustaining and renewing energy of fire. burnings to connect with our Ancestors, smoke from smudge to cleanse ourselves. 
they are meant to remind you of transformation and change, seasons of giving and taking, that nothing stays the same. 
"In hən̓q̓əmin̓əm̓ ʔəm̓i ce:p xʷiwəl translates to "Come Toward the Fire". It suggests a movement of returning Indigenous voices to the forefront —and bringing them back to the centre, the fire, the heart of the community, following a generation of removal due to residential schools." (from festival website)
these hang five inches 
**
please note: lettermail is an option for some pairs, but is completely at your own risk. i will not be able to tell you where they are at, and if they are lost i will not be able to refund or remake for you. thank you for understanding!
all earrings are handmade by me in small batches with good energy and heart. they hang on either gold plated nickel free or surgical steel nickel free hooks, extra strong beading wire tops, nylon beading thread fringe. although they are beaded with durability and longevity in mind, they are still delicate pieces of glass and should be treated with love and kindness.
each piece is smudged before mailing, to cleanse them and get them ready for their next journey.
items will be mailed within 1-3 business days. 
'anáɫzaxʷ núgʷuƛa (i thank you) for supporting my small business!